MagicVOX USB Headset Adaptor
Audio Interface Characteristics
NOTES -
Mic Input
Headphone Output
USB connector
Microsoft Volume Control (mixer)
Volume Control Slider Position Definition:

Except as noted, all measurements were made at 1KHz and with Sliders set to Middle.
Ref: 0.001V = 0 dBmV; 0.010V = 20 dBmV; 0.100V = 40 dBmV.
All measurements were made on the Left Channel. A spot check of the Right Channel showed virtually identical results.

MICROPHONE Input -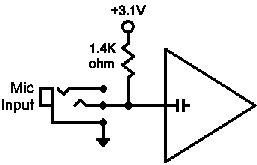 960 ohms @ 20Hz
945 ohms @ 1KHz
311 ohms @ 20KHz
1/8 inch (3.5mm) stereo phone jack
Tip contact is Mic Input w/ +3.1V bias
Ring contact has no connection
Sleeve contact is ground
The Mic Input jack is marked:
Clipping: Input Level for clipping vs. Microphone Slider Position
Levels: Headphone Output Level vs. Microphone Slider Position
10mV (20dBmV) Mic input
Speaker Slider = Middle

HEADPHONE OUTPUT-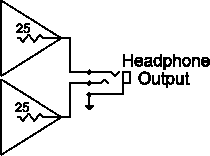 Headphone Output Source Z: 25 ohms
Clipping: 380mV (+ 51.6 dBmV) output
Headphone Output Connector:
1/8 inch (3.5mm) stereo phone jack
Tip contact is Left Headphone Output
Ring contact is Right Headphone Output
Sleeve contact is ground
The Headphone Output jack is marked:
Levels: Headphone Output vs. Speaker Slider Position
10mV (20dBmV) Mic input
Mic Slider = Middle
| | |
| --- | --- |
| Lynn Ashley | 8 August 2003 |